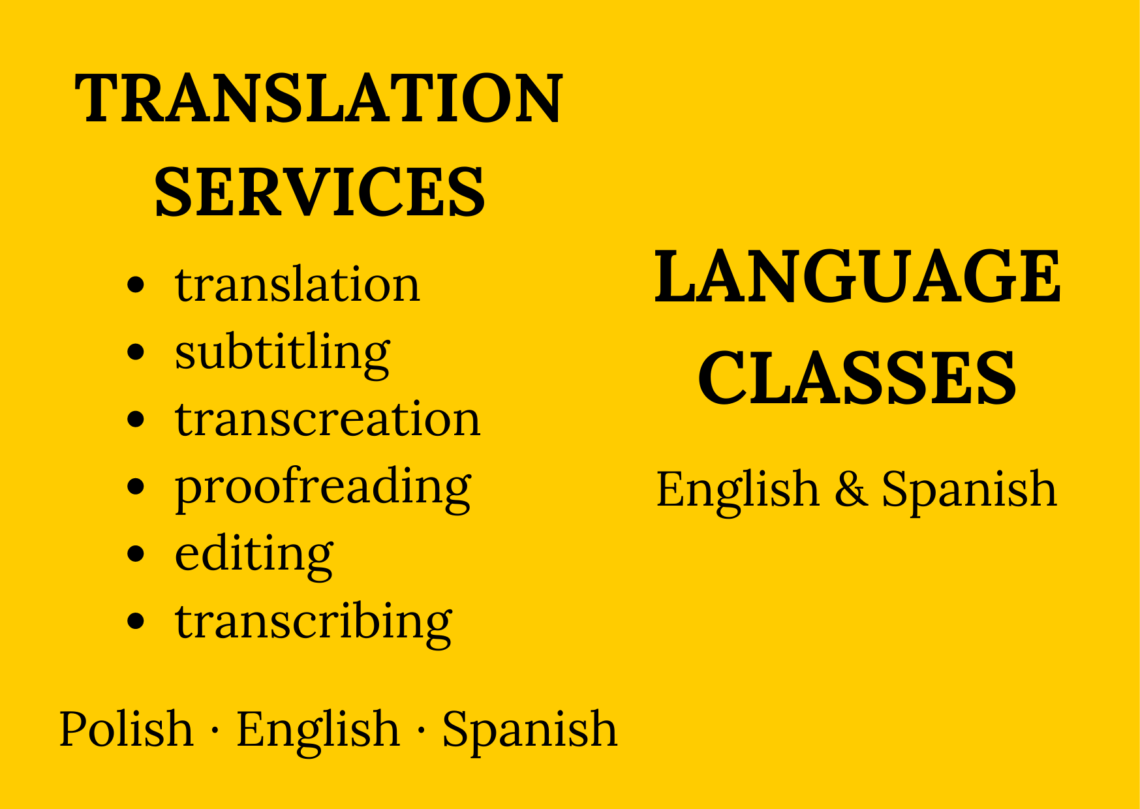 I provide individuals, companies and LSPs with translation and language services in Polish, English and Spanish.


•
TRANSLATION SERVICES
TRANSLATION
of English or Spanish non-certified written copies, e.g. letters, articles, blog posts, marketing materials
SUBTITLING
creating Polish subtitles for audiovisual materials: videos, movies, series, vlogs, PowerPoint presentations
TRANSCREATION
creative translation of blog posts, marketing slogans and campaigns (including SEO)
EDITING
linguistic revision
of copies written in Polish
PROOFREADING
linguistic and content-related revision
of copies translated into Polish

I work on general texts and specialized ones of the following fields:
marketing,
travel & hospitality,
sport: skiing,
cinema,
linguistics,
communication (emails, letters).


See my previous projects.


How I work, or project steps
1. You send me the file(s) and all the necessary reference materials (reference documents, images, glossaries, etc.) using the contact form or directly at my email.

2. We agree on all the project details: language pair, the purpose of the text, your preferred time of delivery, guidelines (a style, tone of voice and terminology you want me to use).

3. I quote the project (set the time of delivery and the cost) and send it to you.

4. If you accept the quote, I proceed.

5. If any doubts occur during the process, I immediately contact you to solve it the soonest possible.

6. When I'm done with the project, I issue an invoice and send it to you with the final files.

7. You confirm the receipt and pay the invoice by the due date for payment.

8. If you have any questions, you can contact me. I am at your disposal throughout the project and within 2 days after the delivery.


Pricing
All the rates presented below are net rates. No VAT added!

Pricing of each project depends on the volume of a text, its complexity and field, and client's preferred time of delivery.

For projects from non-EEA states, I charge an additional fee of EUR 1.09 due to bank commission.

I issue non-VAT invoices.


Type of service

Pricing model

Rate

Remarks

TRANSLATION

per one billing page, i.e. 250 words

e.g. English>Polish translation of a general text is EUR 7.50

Pricing of each project depends on the volume of




a text, its complexity and field and client's preferred time of delivery.

PROOFREADING

per one billing page, i.e. 250 words

a half-rate for translation in the same language pair, e.g. proofreading of
a Polish text translated from Spanish is EUR 4.50

If a text is of poor quality and proofreading it means changing each sentence or requires translating the whole text from the scratch,




I charge my translation rate.

SUBTITLING

per minute
of a video

EUR 7-12

The rate may vary depending on a specific project.

TRANSCREATION
per hour of work

EUR 10

The rate may vary depending on a specific project.

TRANSCRIPTION
per minute of a video

EUR 3-4

refers to Polish content

EDITING

per 1000 characters with spaces

EUR 3

.50

refers to Polish content

For hour-rate projects, I use Toggl Track which allows me to track time spent on each project and provide you with a report.


If you want me to help you with translation services, please use the quotation form or send the files directly at dorota(at)przetlumacz.eu.



•
LANGUAGE CLASSES
! Due to the pandemic, all the classes are online via Google Hangouts or Zoom.


Have you just started learning English or Spanish? Or foreign languages are your passion you want to develop? In both cases you're in the right place! With me you will see that learning foreign languages is a sheer pleasure.

I offer English and Spanish classes for all levels (beginner-intermediate-advanced). You can attend 1:1 classes or group classes of 2 or more people.


I have been constantly learning English since 2002 and Spanish since 2018 both at school and university and in language schools. I also have experience in teaching English and Spanish on 1:1 classes.

Learning languages myself, I attended group classes. It gave me the idea of student needs, and that they can vary significantly for each of them. This is why I provide you with materials tailored to your individual needs.


Are you eager to learn a new vocabulary of a specific field? Great, we will work on written and oral materials.

Do you need to improve speaking English or Spanish? Amazing! We will talk and talk, and TALK.


YOU decide what we are going to work on. Be sure you won't get bored on my classes! 😉


Pricing
1-hour class: EUR 11
package of 10 × 1-hour classes: EUR 105
Sounds interesting? Reach me out at dorota(at)przetlumacz.eu.